Hi. Welcome back (not sure if that's addressed more to you or me – or both of us. It's been awhile).
First the medical – it's shorter.
Treatments are still going well, though last week's left me more tired/irritable than any since the first. Which could be pollen related (which could be age related). Sadie and I did some yard work on Friday which left me feeling older than it should've. I'm taking steps to address this.

Next scan is April 5; I'll get results on the 16th. Worth noting that my treatments are being spaced out to every four weeks instead of every three.

So, on to the mental.
Hooray for Spring! Blue skies, budding plants and perfect temps. And hooray for ELO – looking forward to seeing Jeff Lynn in July.
A former student who's visiting Athens next week googled me to see what I was up to and found the blog. Which means enough of you are reading to get the site into the algorithm, so thanks for keeping up. Thanks for the text David, and I enjoyed talking/catching up.

Sadie and I took our 3rd annual spring break trip – this year to visit "Uncle" Mikey in L.A. We did a lot but also not so much that there wasn't down time to relax (I read three books). Sadie had a blast at the Santa Monica Pier with her Canopy buddy Tyus.
And we ran into a passel of CMS faculty out visiting my former Ultimate co-coach Jordan Perry.
In addition to Universal Studios and dinners galore, we got to see Bobcat Goldthwait perform a short set with the Upright Citizens Brigade. He was great as usual and we had a nice but short visit before and after the show. Some of the other comedians were pretty graphic and I'm not sure whether Sadie was more uncomfortable sitting next to me or vice versa. Everything was fine by the time we had dinner at Musso and Frank – my go to when in L.A.

Thanks to Mike for hosting and hanging with us for the week. SxSW probably would've been more fun for you but your company couldn't have been more appreciated. Thanks to friends and neighbors for taking care of the house while we were gone.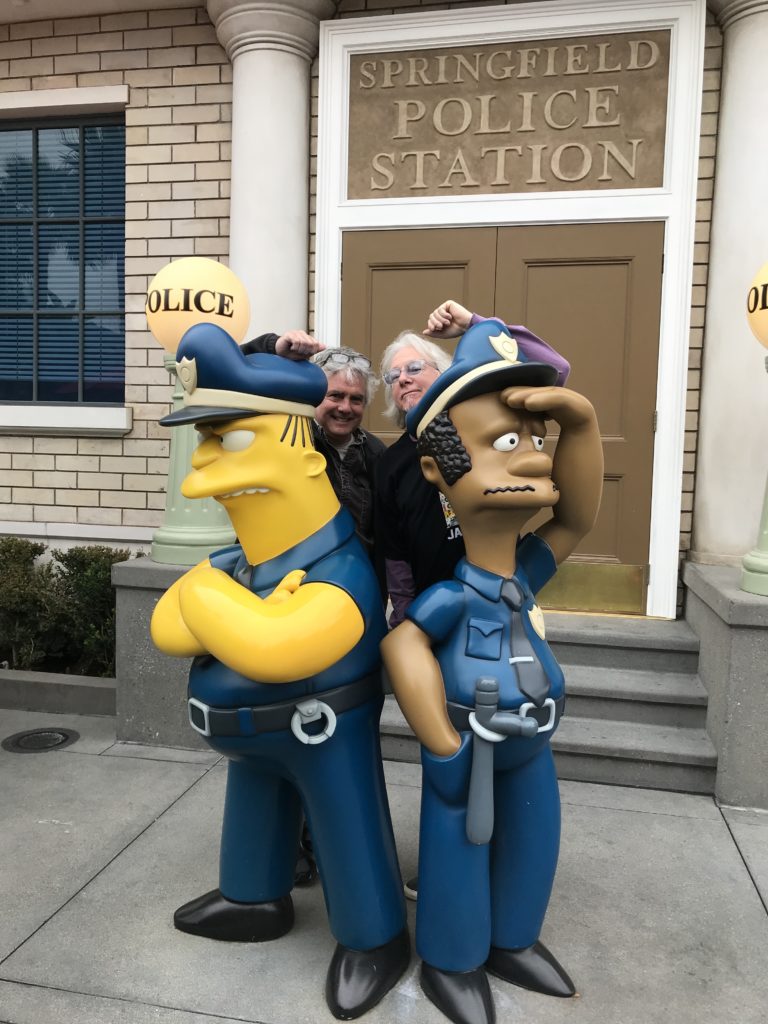 While we had a few bumps in our travels this year, I couldn't be more proud of Sadie. In addition to being great company, she's on track to end the school year with all A's in every class – in every semester – for her first two years of middle school. She's the fireball enthusiast on her volleyball team – earning a shout-out from her coach at the last tournament and being on the court for the epic comeback this week – from down 18-9 to winning 25-18. It was especially meaningful to hear one of the other parents recognize the positive effect she has on the team's intensity.

And I'm looking forward to a vacation for me soon.
Enough about me. I want to recognize the death of a friend to brain cancer.
I only knew Tom Hatcher through EarthFare. I believe he started working there when it opened; I know his wife had twins about the same time Sadie was born. He was always very friendly to me and we talked as much as one could in a grocery store about being a new, older parent.
You will be missed.

————-

Every person you meet is fighting a battle you know nothing about.
Be kind.
Cancer sucks.

————-